Thank you so much for talking with me on the phone this morning. I am sending you a picture of recent success and a little about the story. Please feel free to use this picture and story on your website for others to read. I believe in Hunters Edge® completely. After switching to Hunters Edge® years ago, I have been able to get closer to animals without them winding me.
It has resulted in many successful hunts. The picture I am attaching is from a bear that I shot last year at 30 yards.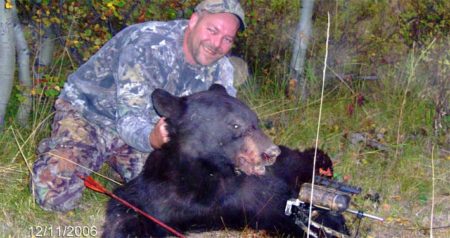 Wind was NOT in my favor and I had just got to an area where two trails cross. I know this is an area that holds elk and is a good pass. The temp was in the 80's and it was hot. I worked up a sweat getting to this area and had just sat down and took off a couple of jackets. Took out the Hunters Edge® and dusted myself to help with my odor. The wind was blowing up the draw but I was hoping it would change. As soon as I completed my dusting with Hunters Edge® I heard a noise and this bear came walking right up the main trail. Wind blowing his way, I knew it would be over within seconds. To my amazement it stopped and checks the wind and kept right on walking right towards me. He got to the cross trail that would put him 30 yards and stopped. He lifted his nose and winded again. I knew he would wind me and be gone. Again to my amazement he turned broad side and started rooting in the brush. I drew and made a great shot. He made it 50 yards and game over.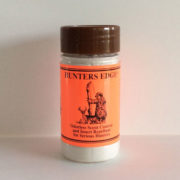 I KNOW without a doubt without Hunters Edge® this would NEVER have happened. I have tried other products but they don't eliminate your odor, they hide it and the game can still smell you or the odor they use to hide your odor. It is still not natural and the game knows it.   How I have learned to use Hunters Edge® is I keep my clothes in a garbage bag. I put Hunters Edge® in and shake. Kind of like the shake-n-bake way… shake and shake. Then I leave the clothes in the bag until ready to go hunting.  I carry a bottle with me while out hunting, Can check wind with it. I can freshen up with the powder when it is needed.
You guys have made a wonderful product and I cannot say enough about it.  Keep up the good work and KNOW that Hunters Edge® is a part and will be a part of my hunting pack from here on out.
My best
Darin Bruce
Meridian, Idaho