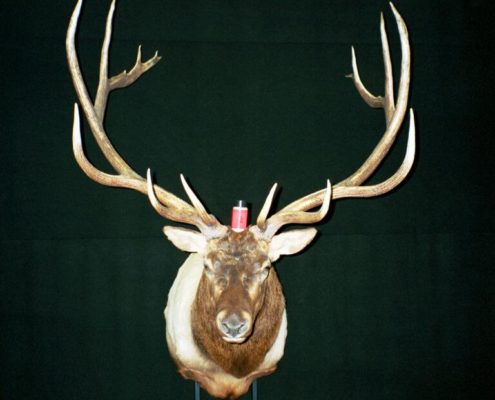 Manufacture's Tested and Proven Method for use of Product
DO NOT USE THIS PRODUCT UNLESS YOU ARE SERIOUS ABOUT CLOSE ENCOUNTERS.
Wash all hunting clothes with 1/4 cup of All Purpose granule or powder and non-scented laundry detergent. Air dry clothing on outside clothes line.
Place dry clothing turned inside out into a large plastic bag and sprinkled about two tablespoons full of Hunters Edge® powder into a bag with clothes and shake well to coat clothing with powder. Then take clothes out and turn right side out placing them back in the bag and shake again. Now seal bag tight and keep clothing in the bag to transport to a hunting area.
Wear non-hunting clothes in transit to your hunting area so as not to expose your hunting clothes to any odors from the vehicle or other sources. Upon arrival to your hunting location change clothing and apply Hunters Edge® to your entire body including hair and face. It should not take more than an ounce or so to do. Apply additional powder to boots, hatband and armpits inside and out. Be sure to carry the product with you to reapply to hatband and armpit areas whenever you start to feel moisture occur in these regions.
Non-Scented, Deodorizing Spray to help you stay cooler and odorless on those hot days in the woods while hunting. HUNTERS EDGE® Spray odorless scent control(16 oz.) when used in conjunction with HUNTERS EDGE® Powder is the ultimate odor and scent control for serious hunters.
HUNTERS EDGE
Safe Hunting and Good Luck
ODORLESS SCENT CONTROL AND INSECT REPELLANT FOR SERIOUS HUNTERS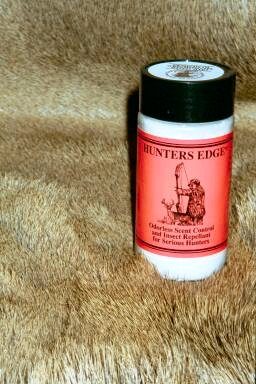 Safe Hunting and Good Luck