For The Avid Outdoors Fan             
All outdoor enthusiasts, but especially hunters, anglers, and wild game photographers will benefit from the remarkable qualities of HUNTERS EDGE®. " WARNING"! DO NOT USE THESE PRODUCT UNLESS YOU ARE SERIOUS ABOUT CLOSE ENCOUNTERS. These  products work so well that if you were to get lost even a blood hound could not track you!
HUNTERS EDGE®  Powder

Relieves itching & stinging from insects & plants.
Repels fleas,tick and other insects.
Removes fish and bait smells from hands.
Eliminates soap smells from clothing.
Absorb Body Odors and perspiration.
HUNTERS EDGE® is not just a cover up product. It truly eliminates odors. The product is odorless, non-toxic, and safe. HUNTERS EDGE® powder eliminates all trace of human scent in the field. It's like being invisible! Nature has the answer, not chemicals.

HUNTERS EDGE® Spray odorless scent control (16 oz.) when used in conjunction with HUNTERS EDGE® Powder. Our spray works quickly and safely to eliminate human scent and all other odor. Use full strength and spray up in the air, and walk into the spray, or spray on your clothes and hat band. Just any place you would feel better to know you have no odor.
Serious Package Of Hunters Edge® Includes:
Hunters Edge® Original POWDER since 1996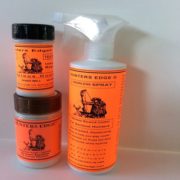 Hunters Edge® Original Odorless Spray Since 1966 
WIND TESTER For Serious Hunters Package (2 oz.) –
It also is great for testing wind direction, which makes it more versatile.