Serious Hunters Edge® Original Package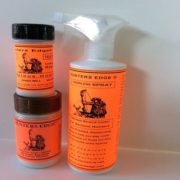 All outdoor enthusiasts, but especially hunters, anglers, and wild game photographers will benefit from the remarkable qualities of Hunters Edge®.
Your 2 oz. wind tester is included in this package, it is  also is great for testing wind direction, which makes it more versatile.
Odorless Scent Control For Serious Hunters  " WARNING"!   DO NOT USE THIS PRODUCT UNLESS YOU ARE SERIOUS ABOUT CLOSE ENCOUNTERS.
Eliminates all trace of human scent  in the field. It's like being invisible! Nature has the answer, not chemicals.
Safe to use around  children, pets and plants.  HUNTERS EDGE® is not a  perfumed or scented  deodorizer that disguises or masks odors.  It simply  eliminates odors naturally.
You have tried other products but they don't eliminate your odor, they hide it and the game can still smell you or the odor they use to hide your odor.